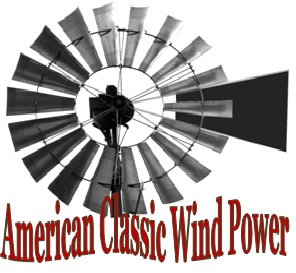 American Classic Wind Power(R) 6 kW
The Potomac Wind Energy American Classic Wind Power™6kW turbine (Patents Pending) is a custom conversion of the nostalgic traditional 16 foot diameter, 18 blade water pumping 'American Windmill'. Produces grid-tie electricity with a modern permanent magnet AC alternator, direct grid-tie inverter and monitoring software. Spins in 2 mph breeze and starts pushing power into the grid at 3 mph (2-3 times more power than a Skystream 3.7 at any wind speed) and more power than a ReDriven 10kw or Bergey 10kw in 9.25mph winds typical of our area).
MANUFACTURED IN THE U.S.A.