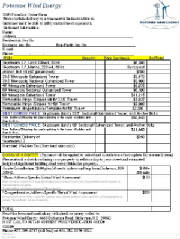 PRICES ARE SUBJECT TO CHANGE AND ARE INDEPENDENT OF THE PRODUCT LINES.
Please call or email for pricing and special offers to non-profit organizations.
SOLAR AND WIND ANALYSIS (ASSESSMENTS)
*Please attach a sketch outlining your property in relationship to your street and estimated height of significant buildings and trees within the property.
--Onsite Consultation (Basic assessment): $100 plus 50 cents/mile round trip from Dickerson, MD 20842. This fee will be credited to customers who purchase a complete system from Potomac Wind Energy. (Modular Solar Array, Skystream, tower, and anchor bolts)
--Basic: Address Specific Virtual Wind Assessment
:
$100 Basic written report
by e-mail (Average and prevalent solar and wind info. Expected Kilowatt output with various solar shed dimensions and wind turbine tower heights. Shed/Tower sitting recommendations (no pictures).
--Comprehensive: Address Specific Virtual Assessment
:
$500 Comprehensive written report by regular mail. (Basic assessment plus: satellite and topographical views, "Wind Rose" or solar output estimates for each month).