PWE's Modular Solar Sheds Click here
New "Solar Shed" concept. Versitile solar module. Built to produce electricity. Proven technology. Start small and see your energy savings grow.
Traditional style windmill built to produce electricity. Proven technolgy. Made in the U.S.A.
Other types of turbines available.
Tubines may produce 40%-90% of a household's or small business's total energy needs. And because they operate at a low RPM, many systems are as quiet as the trees blowing in the wind.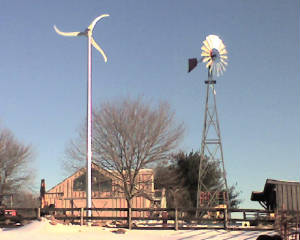 PRICES ARE SUBJECT TO CHANGE AND ARE INDEPENDENT OF THE PRODUCT LINES.
Please call or email for pricing and special offers to non-profit organizations.
SOLAR AND WIND ANALYSIS (ASSESSMENTS)
*Please attach a sketch outlining your property in relationship to your street and estimated height of significant buildings and trees within the property.
--Onsite Consultation (Basic assessment): $100 plus 50 cents/mile round trip from Dickerson, MD 20842. This fee will be credited to customers who purchase a complete system from Potomac Wind Energy. (Modular Solar Array, Skystream, tower, and anchor bolts)
--Basic: Address Specific Virtual Wind Assessment
:
$100 Basic written report
by e-mail (Average and prevalent solar and wind info. Expected Kilowatt output with various solar shed dimensions and wind turbine tower heights. Shed/Tower sitting recommendations (no pictures).
--Comprehensive: Address Specific Virtual Assessment
:
$500 Comprehensive written report by regular mail. (Basic assessment plus: satellite and topographical views, "Wind Rose" or solar output estimates for each month).
We are the most experienced and oldest dealer/installer of wind turbines in the area. Responsible for the first installations in Frederick, Carroll, Howard, Washington, Charles, Montgomery, and Prince Georges counties in Maryland and at the National Botanic Gardens in Washington, D.C. Installations in Pennsylvania, West Virginia and Puerto Rico. Over 120 wind energy systems sold. Limited third party finance and lease available. We don't just sell you a turbine or solar system, we install, maintain, repair and service your system!
Reduce your electric bill, your carbon footprint, our dependence on foreign oil and save the planet one backyard at a time!